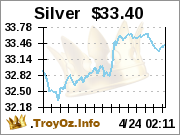 What is so great about Silver?
A very important question indeed. One that you should ask, and one that I will answer in the following paragraphs. There are many different aspects that make Silver a staple for wealth retention and global bartering purposes. Variables such as, industrial applications, monetary applications and jeweler applications all contribute to the value of silver. These are some of the focal points I will be addressing.


Silver is being eaten up at an exponential rate. Everyday new technologies are invented that cannot operate without silver, in fact you cannot flip an electrical switch without silver in it. That's some serious demand and now is the most widespread use for the precious metal. With technology continuing to expand so too will the demand for silver.


Most forms of silver "money" are no longer being produced for anything but silver investing as the value of silver is just too high. So they produce legal tender collector coins, which are all forms of certified silver that one could use as fiat currency. Clearly, this would not make any sense to most of us. You can use silver in many foreign countries as barter, you could not spend an American dollar bill in Iran, however they would readily accept the American silver coinage as barter.(NOT the most plausible scenario I realize)


As far as the Jeweler aspect to the industry goes, they are not using as much silver, simply because they are always reducing their silver down to small percentages and different purities. Silver is so versatile that when combined with other alloys it can be stretched out while keeping most of its unique qualities. Humans have been adorning themselves with Silver for as long as we can tell, and as far I can tell this will not be changing anytime soon.

Perhaps the most influential factor in what the perceived value of silver is the paper derivatives. The ones that just so coincidentally happen to be printed and sold as needed. It doesn't take a genius to figure out that having an infinite reserve ratio for a commodity is literally fraud. But the banks are allowed to do as they please so if the prices of silver and gold for that matter(even worse with gold) more and more paper is printed to flood the market and suppress the price of metal. Currently as I write this, Gold is leveraged at 300-1 paper to physical on the COMEX books. So that means that they would have to stop selling paper today and wait for 100 years until the mining industry catches up in order to honor these fake contracts... so if you've heard of someone talking about precious metals, this is why they are so undervalued in today's world.


As a finite resource, silver will Always be needed, everyday there is less and less silver available. As the economy continues to trend towards chaos and uncertainty we need to move towards a more stable means of surviving another, "GREAT Depression". Precious metals.